AMUSEMENT TODAY: Revenge of the Mummy™ at Universal Studios Orlando Wins Tenth Golden Ticket Award for the World's Best Indoor Roller Coaster
September 21, 2017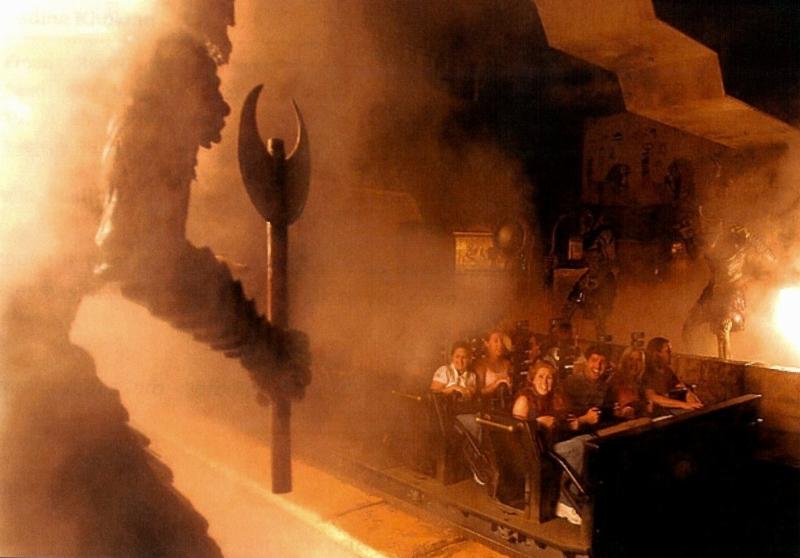 Baltimore, MD – Amusement Today has announced the winners of its prestigious Golden Ticket Awards which are presented to the "Best of the Best" in the amusement industry. The awards were presented at historic Lake Compounce in Bristol, Connecticut during the 20th Annual Golden Ticket Awards Ceremony. In the 2017 Amusement Today international poll, experienced park enthusiasts voted Universal Studios Orlando's Revenge of the Mummy™ as the Best Indoor Roller Coaster in the world.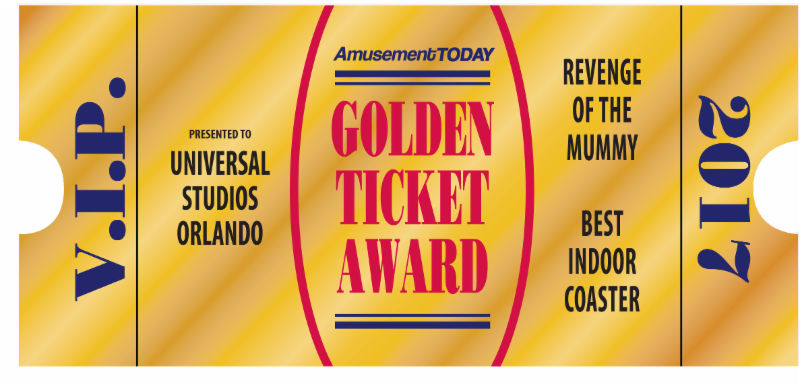 Universal Creative Engineer Eric Kaminsky, on behalf of Executive Vice President of Resort Operations Richard Costales, proudly accepted the award stating, "Thank you to our Operations Team and our Maintenance Team for keeping this amazing attraction going every day. At this point between all three Universal parks that have a Mummy attraction, we have given over 150 million riders the opportunity to experience the Revenge of the Mummy™, which is great, so thank you!"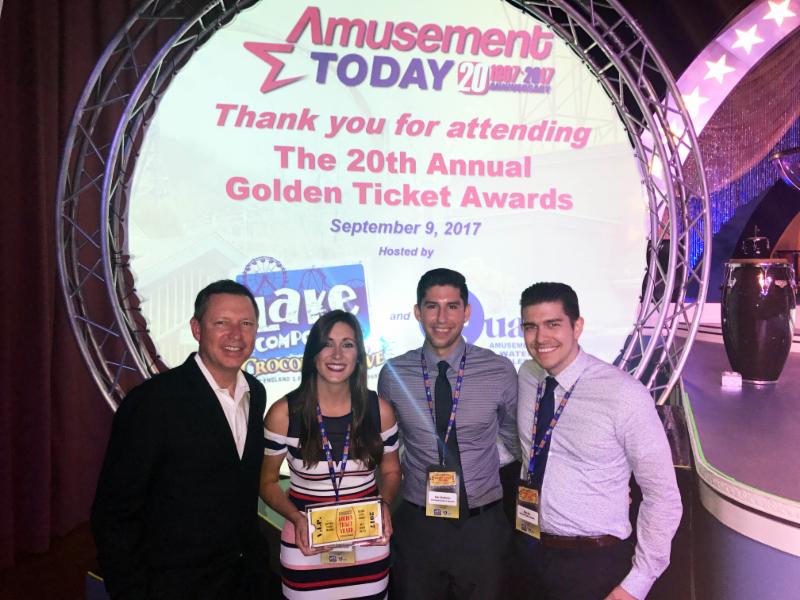 Left to right: Premier Rides' Jim Seay, Universal Orlando's Alexis Papadelias, Eric Kaminsky, and Daniel Guy celebrate the Golden Ticket awarded to Revenge of the Mummy™
Kaminsky added, "Revenge of the Mummy™ is an awesome ride! We have received this award a number of times, so hats off to Jim Seay and the Premier Team for providing us with a really great ride experience."
Jim Seay, President of Premier Rides, remarked, "We at Premier Rides are honored to have had the opportunity to be a part of the Universal Team that produced the Revenge of the Mummy™ attraction. It was exciting to work on this technically complex and sophisticated attraction, and we enjoy continuing to support its impressive reliability. We are pleased that it continues to garner global acclaim, even defending its position as the world's best indoor coaster for a full decade! All of us at Premier Rides are honored that Universal continues to keep us a part of their formula for success and we are thrilled each time we are selected to deliver award-winning attractions to Universal Resorts located both domestically and around the globe."
The Revenge of the Mummy™ attraction plunges guests into total darkness as they face fireballs, scarab beetles, and an army of warrior mummies on a psychological thrill ride, unlike anything else. This highly-themed attraction uses the latest technologies such as magnetic propulsion systems, high speed track switches and show elements to create the ultimate guest experience. It's no wonder this combination of the thrill of a coaster, the fear of darkness and breath-taking interactive scenes continues to earn the distinction of Best Indoor Coaster. Fans of Revenge of the Mummy™ can also experience The Revenge of the Mummy™, at Universal Studios Singapore. A variation of this award-winning layout can also be enjoyed at Universal Studios Hollywood.

---
---
---