AUSTRALIAN LEISURE MANAGEMENT: Premier Rides Awarded Its Largest Service Contract
August 17, 2020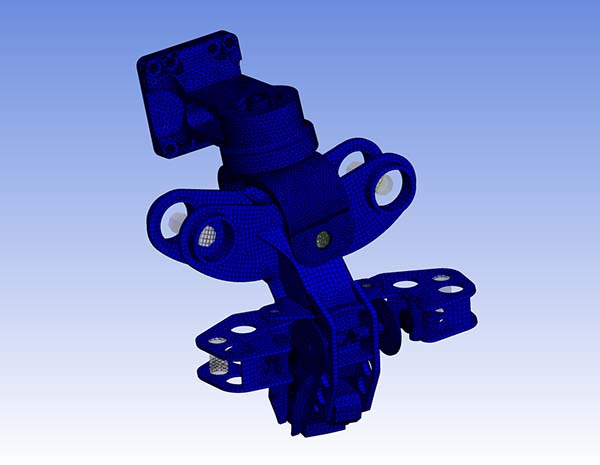 A Finite Element Analysis (FEA) study performed on a bogie, part of the technical approach
to Premier Rides' service project.
ATTRACTIONS / DESIGN / SAFETY / TECHNOLOGY
The Premier Service division of Premier Rides has announced that it has received its largest ever service contract and will be producing a new fleet of trains in addition to providing other technology upgrades for a non-Premier Rides existing attraction.
Despite the world's current events, the project goal is to have the trains available for the 2021 season.  Additionally, the upgrade is aimed at providing a ride experience that will motivate riders to desire to ride multiple times.  And after the pandemic, this major upgrade is seen as a powerful way to bring back old fans and create new ones.
The location of the project will be announced at the appropriate time by the client.  The trains will incorporate advanced technology elements used on the Sky Rocket series of attractions that have been extremely popular with guests due to the ability to combine enhanced rider comfort features with high thrill elements and high speed.  Additionally, the trains will incorporate some new precision-machined lightweight technologies as part of the adaptation to the existing ride's track design.
Premier Rides President, Jim Seay advised "we are honoured to be able to provide a fantastic technical upgrade to a truly iconic roller coaster.  Fans will be excited when the location of the effort is announced. The Sky Rocket attractions continue to be recognised for their advanced technology and superior rider comfort, and the Premier team is certain that the addition of these newest generation of trains will take this coaster's ride experience to the next level."
Seay adds "there are always unique challenges in layering advanced technology equipment onto an existing attraction.  All through the design and integration phases, our technical team has worked closely with the client's talented maintenance team who are passionate about keeping their equipment operating at the highest level and raising the guest experience.  This new fleet of trains will help them do just that."
There are key and unique challenges due to the global pandemic including health and safety as well as travel restrictions.  The Premier Team has found solutions to remain efficient and timely, to think outside of the box, and to utilise technologies to achieve project milestones such as gaining regulatory approvals using a virtual environment.
Seay notes "Premier had already pivoted quickly at the beginning of the pandemic and came up with a portfolio of technology approaches to keep our projects moving despite onerous worldwide restrictions to travel.  Our efforts to be heavily virtual in all aspects of service will be a large factor in this project's success."
Premier Service has had a very long history of being the leader in aftermarket service.  The majority of the division's work is focused on non-Premier Rides attractions.  The work product includes ride rehabilitation and safety modifications, legacy ride upgrades, magnetic brake upgrades, engineering support, audits, ride evaluation, ride relocation, maintenance training, track rail replacement, replacement vehicles, queue gate systems, chain and sprocket replacement and spare parts supply.
Premier Service has a Premier Rapid Response Team, which utilises the latest technologies to communicate with and to support parks around the globe during rehab efforts, reopening procedures or to address specific technical projects.
Seay continues "we are honoured by the trust placed in us by the client's management and look forward to a long-term cooperative effort."

---
---
---